Public Relations Definition Changes & How To Acquire More Customers
---
Here is how Wikipedia defines Public relations (PR):
Public Relations is the practice of managing the spread of information between an individual or an organization (such as a business, government agency, or a nonprofit organization) and the public.
The official public relations definition probably should be "if nobody knows you exist, you won't have any customers!".
There is good news though!
In the dinosaur age (well, 20-50 years ago!), every company who wanted publicity and to manage their public image had to hire expensive firms. That's because access to the gatekeepers in traditional media was gained through years of relationship building. Attending the same events. Calling each other regularly.
Then something was invented. The Internet. And it has completely upended the PR equation for all the parties involved.
Before, traditional media was one of the only ways to connect with the masses. Print news. Television. Radio. Yes remember those?
Now that information has moved online, many different people and platforms command large audiences you can put your company in front of. Everything from blogs to Wikipedia to Youtube channels.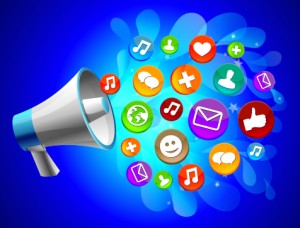 Let's take a blogger for example. You don't need to hire a firm that has spent years cultivating a relationship with them. In fact, this popular blogger may have only exploded a few months ago! Now you can directly email them to work out a promotion deal.
That's only one of the many new ways you can do PR for yourself. At a fraction of the price. Keep reading to learn 10+ new approaches you can act on right now to blow up your Google Analytics and user base.
Public relations definition change #1: Now you can do it yourself
Old public relations way
Previously, you had to hire PR professionals to help you because they are the only ones who had the connections and access to break into traditional media. Also, expertise was locked up inside the brain of the experts. You couldn't really Google "how to do PR for your company" to pull up 10+ in-depth guides and DIY your way into landing press features.
New public relations way
With social media and Google research, you can find the names of most of the relevant gatekeepers and journalists you want to pitch on your own.
New tools like Email Hunter and Email Format help you uncover their email address to directly pitch them. In fact, according to a survey by Fractl conducted in 2014, the majority of journalists now prefer to be pitched by email: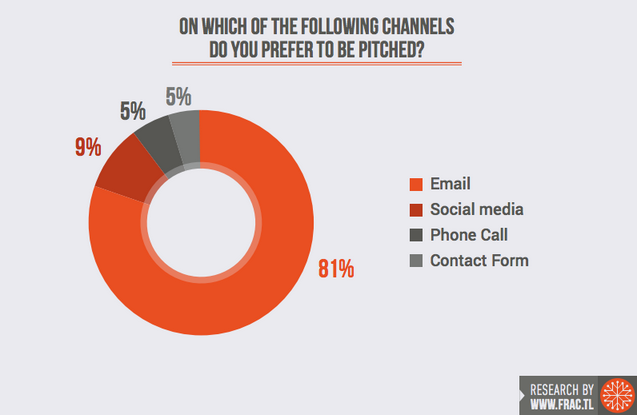 How to find relevant journalists to pitch yourself
1. Go to Google and toggle to News
Enter either a general phrase that describes what your company does or enter the name of a similar company
General phrase examples:
Peer to peer delivery
Photo sharing
Here are some news results you get when searching for photo sharing: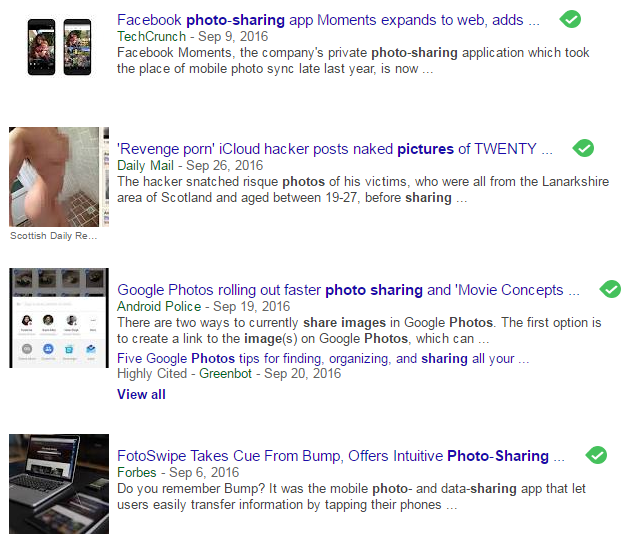 2. Visit each article to get the author details
If the author is a staff writer, add their full name and publication to a spreadsheet.
If the author is contributor (which means they likely don't have an email address with that publication), go to their social media to find out what is their company or personal site is. Then add their full name and that website to the spreadsheet.

3. Once you have 10+ names on your spreadsheet, smart guess each author's email address
Tools like Email Format and Email Hunter show you how the publication, company or personal site formats their email addresses:



Write out your author's email based on that format and validate it on sites like Verify Email or Email Checker.

4. Pitching your company by feeding the journalist a story angle about it
Don't just pitch the journalist what your company does. Feed them a story idea about it so they can quickly see its potential to serve their primary goal of educating and entertaining their audience.
For example, in this New Yorker article about Soylent, the author doesn't focus primarily on what it is (a meal replacement):



It starts off describing what inspired the founders to create Soylent in the first place:
Down to their last seventy thousand dollars, they resolved to keep trying out new software ideas until they ran out of money. But how to make the funds last? Rent was a sunk cost. Since they were working frantically, they already had no social life. As they examined their budget, one big problem remained: food.
5. Brainstorming story angles to pitch for your company
What you do: peer to peer delivery
Story angles:
An angle relevant to the publication's focus: Now you can enjoy all your favorite restaurants on your own couch or even in bed. Including the ones that don't deliver themselves or via another service.
What inspired you to make it: Before, I was a lawyer in LA. Given the constant gridlock, it was hard to run my errands scattered all across town.. So I created a platform to connect with people who were already planning to go there and could do it for me. They earn extra money. I save tons of time.
Public relations definition change #2: News moved online, which means you can earn exposure and traffic beyond a press feature
Old public relations way
Back in the day, most people got their news from a few sources like radio, television and the newspaper. Unless you or your company did something newsworthy (and it may not always be good news!), it is hard to break into these outlets without someone, especially PR professionals, knowing about relevant opportunities as they come up and referring you to it.
New public relations way
Now that news has moved online and sources of information has expanded from traditional media to many different types of players from social media influencers to bloggers, you can gain traffic and exposure from them as well. Often with lower bars to entry. In fact, getting featured in a relevant high traffic non-news site can drive as many new visitors to your site as a feature in the press.
Here's a screenshot of the traffic Seth from Subimage LLC received when he was interviewed 6 times in 9 days. It peaked at 300 sessions in one day: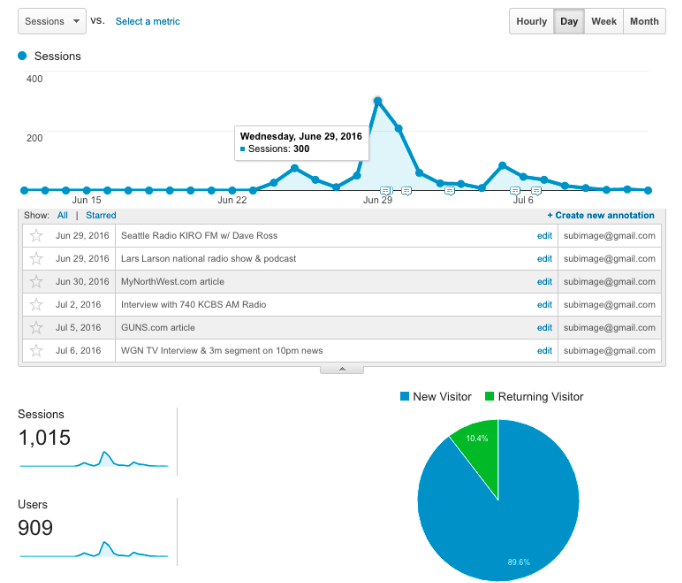 Here's the traffic Subimage LLC received when he was featured on the front page of Hacker News, a community tech site. It peaked at a whopping 18 948 sessions: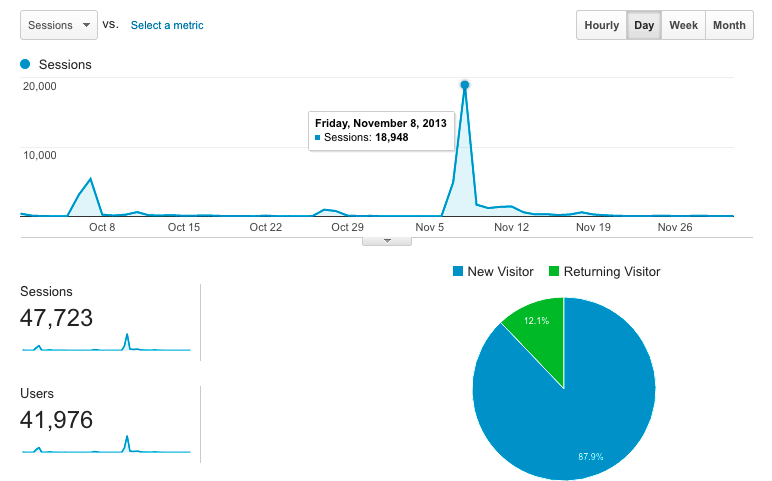 This goes to show that relevant community sites can beat out traditional media in driving a flood of relevant visitors to your site.
How to post your company on a high traffic community site
Search for '[your industry] forum" and the top results tend to be the most popular community sites around that topic.
For example, here are some results you get for when you search for 'car forum':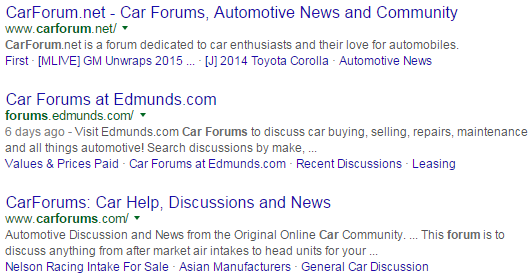 1. Start by leaving meaningful comments
This shows the community you're there to provide value, not only to promote yourself.
2. Getting around guidelines around self-promotion
Many community sites don't really allow blatant self-promotion but you can get around it by requesting feedback on your company instead. Or by offering an interesting or educational experience related to it.
For example, here's how a poster on Reddit gained exposure to his business case studies site by asking for feedback on it on a relevant sub-forum (one for entrepreneurs):

Be sure check back the thread regularly to provide meaningful answers to any questions other members may ask. This has the added benefit of keeping the thread closer to the top of the page so more members can see it.
3. Some journalists browse community sites for scoops so it may land you a feature
A lot of journalists these days actively browse community sites for story ideas and scoops, especially ones centered around their local city.
Here's an example of a Toronto Star journalist who browsed community sites and Twitter to cite in her article:

Public relations definition change #3: Now algorithms and technology can help you find the right people to connect with and track the impact
Old public relations way
Before, when information lived offline, you needed the help of people who knew where press opportunities existed to refer you to them.
New public relations way
Finding relevant opportunities
After all the information moved online, you can find the right people to contact yourself with Google research and online tools.
1. Finding relevant journalists to pitch
On JustReachOut, you can find all the recent stories that was written about a similar company and the contact information of authors so you can pitch them yourself: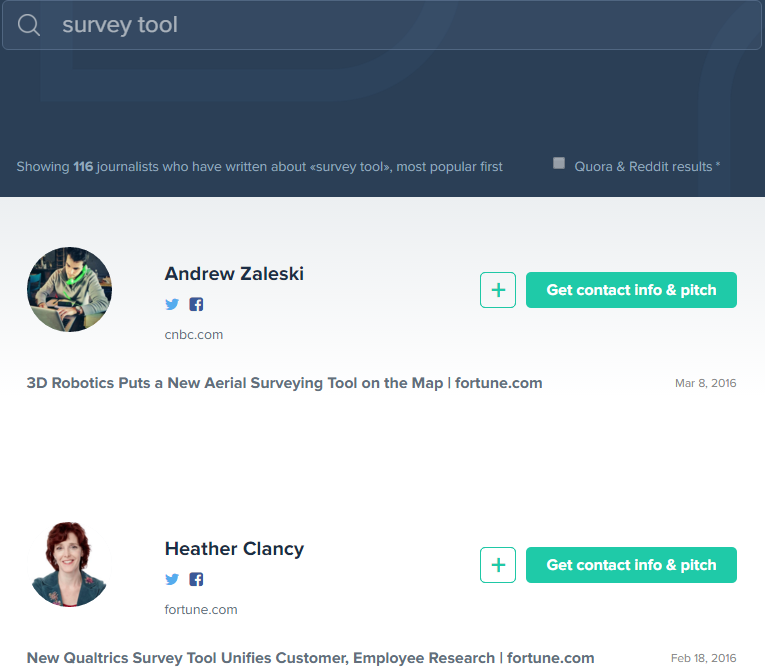 2. Connecting with journalists who are looking for a source for their article
On HARO, journalists submit requests seeking expert experiences and insights for articles they are working on right now.
When you subscribe to it, they send you a few emails a day with a roundup of these requests (you can subscribe and unsubscribe to certain topics).
Before the advent of email and websites, it was difficult for journalists to go beyond their own contact list and referrals to find sources. Now you can receive requests from dozens of journalists everyday in your inbox!
Responding to their requests and explaining how you can contribute relevant experience and expertise gives you a much better chance of getting featured since these journalists are actively looking for someone to feature.

Here's an example of how a query inside a HARO email looks like: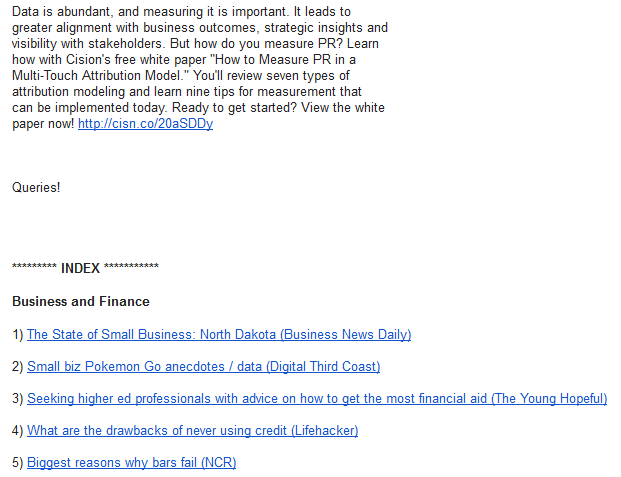 You can also sign up to receive Google notifications whenever your competitors are mentioned in the press so you can reach out to those journalists as well: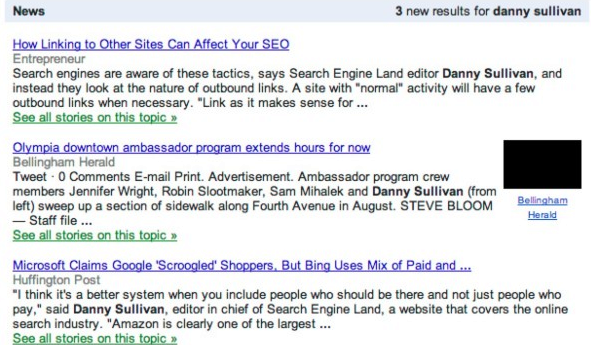 3. Provide data and insights to journalists
Journalists love supplementary materials that make it more interesting to read their article. Since they work under tight deadlines, they may not always have the time to find or create it themselves so they are often receptive to ones that are offered to them.
For example, I pitched journalists offering an interactive poll for their articles and earned the company I worked for at that time, Polar, many links.

Being able to access any information with the push of a few buttons and in some cases, being able to have relevant information delivered straight to you, means you no longer need a PR team to monitor all the publications out there for press opportunities.
Measuring the results of publicity
Before, when publicity happened mostly on traditional media, one of the few metrics you could track was how many more sales you made after a press feature. This is imprecise because you cannot know for sure whether a press mention lead to the sale or whether it would have happened anyway.
Now that information has moved online can be discovered and consumed on many new channels from Google search results to social media, your PR results can be tracked on a much more accurate and granular level.
For example, if an influential site links to your company, you can track metrics including:
How many new visitors you received from this link
At what rate they performed events important to you (examples: subscribed to your email list, signed up for a trial, purchase an item)
These new metrics give you much greater insight into what PR strategies are delivering you high value visitors and which are not so you can continually tweak and improve what you are doing.
Tracking the journeys visitors from different sources take on your website
Go to Google Analytics -> Behavior -> Behavior Flow
Toggle your traffic view to Source
Find your referral of interest to see how visitors from there navigate through your site
Find your referral of interest such as nytimes.com or reddit.com and click on 'Highlight traffic through there':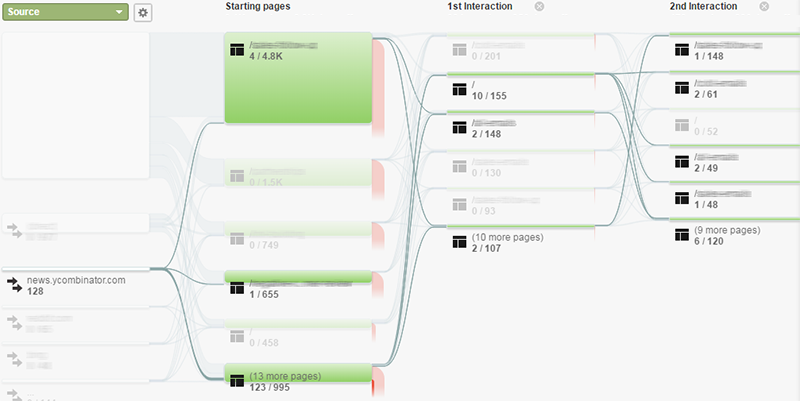 Bottom line: the definition of public relations has changed radically. You and your new powers to create PR are now part of the equation!
With the rise of new ways, tools and approaches to research and find PR opportunities, it means you no longer have to hire PR professionals who spent years gaining access to the traditional outlets and gatekeepers.
Now you can either do yourself, focusing on the highest payoff approaches. Or each member of your team can incorporate PR goals into their work. From your SEO wizard to your social media manager.
Public relations is no a longer a:
One way relationship where you and your PR team builds and gains access to opportunities to help more people discover your company.
Instead, public relations can be redefined as a continual feedback loop:
You generate PR

An audience, discovering or consuming it real-time on social media, online news and other sources quickly consumes it and/or reacts to it

You tweak your strategy and messaging in response

They consume and react again

The loop continues.